KMYOGA Teacher Training Level 1
This training is open to everybody. It is an adventure in consciousness for personal development for both yoga students ready to become teachers and those who wish to immerse themselves in the science of Kundalini Yoga.
The Teacher Training Level 1 covers the following topics:
The Dynamics of Kundalini Yoga

History & Philosophy of Yoga

Oriental Physiology

Introduction to the mind & meditation

Karma & Health

Yogic lifestyle (Humanology)

Kriyas & Asanas

The spiritual path
The KRI Certification:
The total program takes at least 220 hours, including about 140 hours of class sessions (class presentations, teachings and teacher guided Q&A and peer group discussions), 40 hours of assignments, homework and preparation, and at least 40 hours of personal practice. Students have to attend 20 Kundalini Yoga classes outside the training program with KRI certified teachers. Attendance of one or more days of White Tantric Yoga is also a requirement.
A final written exam will be organized at the end of the training to validate your certificate by KRI. The Kundalini Yoga Teacher Certificate will be delivered by KRI (Kundalini Research Institute). It will give you the access to IKYTA (International Kundalini Yoga Teachers Association), which guarantees the validity of the certification and its worldwide recognition.
The course will take place as a series of three retreats from March 2014:
Training week 1: March 15-22 2014.
Training week 2: June 7-14 2014.
Training week 3: October 18- 25 2014
Location:
The training will take place at Avrajita - a beautiful unspoilt bush land 2 hours from Sydney.
Investment and registration:
Early-bird Price: $5,000 register by December 22, 2013.
Full Price: $5,500 after December 22, 2013.
Price includes all teacher training manuals, accommodation and food.
Please contact local administrator Sarb Sewak Kaur (Kathryn) at kathryn@kmyoga.com or ring (02) 9389 8343 for more information.
Download Application and Registration KY Level 1 Training Form
---
Teaching Team
International teacher trainers Sat Sarbat Kaur and Satmukh Singh along with Sarb Sewak Kaur (Kathryn McCusker) will be your teaching team.
All teachers are active members of Amrit Nam Sarovar International Kundalini Yoga School based in France.
Sat Sarbat Kaur – Lead Trainer
Sat Sarbat Kaur is a certified Kundalini Yoga teacher and teacher trainer. She has been teaching the Level 1 for 10 years in Austria and in France.
Satmukh Singh – Professional Trainer
Satmukh Singh is based in China and created the studio Yoga-Gaia. He is a certified Ashtanga and Kundalini Yoga teacher and travels between Europe and China sharing the teachings of Yogi Bhajan.
Sarb Sewak Kaur (Kathryn) – Local Administrator
Sarb Sewak Kaur is the founder and director of KMYOGA in Sydney, and trained under Karta Singh at Amrit Nam Sarovar. She has been teaching for over 10 years in Europe and Australia.

"If you want to learn something, read about it.
If you want to understand something, write about it.
If you want to master something, teach it."
- Yogi Bhajan©
KMYOGA Teacher Training Level 2
This Level 2 Teacher Training consists of six one-week modules for transpersonal transformation. It runs over three years with two modules a year. Here you apply Kundalini Yoga for your personal development.
'Those who want to expand to Infinity must know to contract themselves to a point of zero'
The Teacher Training Level 2 covers the following modules:
MODULE I: VITALITY & STRESS WITH KARTA SINGH
March 31 – April 6, 2014.
the concept of excitement, expansion, containment, and completion applied to kriyas

the dynamic of the five tattwas applied to physiology and metabolism

symptoms of energetics and kriyas to heal deficiencies of organs and body systems (against aging, for the brain, for weight loss and gain)

Naad, prana, and pranayama in Kundalini Yoga

diet: food as medicine, pattern of transformation of colours, forms, and tattwas

healing hands

physiology of kriya
KMYOGA are excited to bring Karta Singh out to Australia to teach this module - we are offering a 50% discount to Kundalini Teachers who've already studied this Module so you can experience it being taught by Karta.
MODULE II: CONSCIOUS COMMUNICATION
March 30 - April 5 2015.
The power to speak and to be heard
advanced Naad Yoga
the art of listening: the hidden self and its agenda
communication therapy
communication and chakras
communication and the projection of a teacher
communication with the infinite and the unknown
the power of your prayer.
lots of inter-actions and practices
diet: communicate with your food
MODULE III: AUTHENTIC RELATIONSHIPS
HUMANOLOGY FOR RELATIONSHIPS: HE – SHE- WE!
DATES TBC.
Special assignment: For the 40 days before the course a mono-diet of kitcheree, the practice of Sat Kriya for 11 minutes per day, and refraining from sex.
MODULE IV: MIND & MEDITATION
Dates TBC
81 facets of the mind and applied meditation
the samyama of Kundalini Yoga
the experience of shunia
breath walk and walking meditations
immersion in the meditative mind 24/7
introduction to the sacred space and 9 aspects as 9 archetypes
diet: special food for the brain (very light and sattvic)
MODULE V: LIFECYCLES and LIFESTYLES
Dates TBC
the cycles of destiny and fate
the rings of success
the cycles of consciousness, intelligence, and life
analysis of your autobiography
finding the crucial transition points in your life
discover the destiny of your incarnation
how to re-write and set your goals and destiny. Including Success and prosperity
diet: success means to celebrate life, every day a banquet.
SPECIAL EXTRA MODULE: THE WARRIOR SAINT
Dates TBC
"I am the master of my destiny; I am the captain of my soul."
meet the challenge to deal with Shakti and Bhakti - introduction to Raj Yoga
learn strategies for the age of Aquarius
the shield of the Aquarian warrior
effective meditation; pratyahara
make yama your best friend, be always prepared to die
how to prepare for death, be ready for war and pacify your 5 enemies
Location:
The training will take place at Avrajita – a beautiful unspoilt bush land a few hours from Sydney.
Module One Investment and Registration:
Standard Price: $1,800
Teachers who have already completed Module 1 but wish to repeat it with Karta Singh Khalsa receive 50% OFF the Standard Price
Discount Option 1: $50 Discount for any Kundalini Teachers who are repeating the module, and to KMYOGA Level 1 teacher trainees.
Discount Option 2: If you pay for both 2014 Modules by December 22 2013, you pay only $3000 ($1500 per module). If you pay for both 2014 Modules after December 22 2013, you pay a total of $3200 ($1700 for Module 1 and $1500 for Module 2).
* You can use only one of the two discount options.
Price includes all teacher training manuals, accommodation and food.
Please contact local administrator Sarb Sewak Kaur (Kathryn) at kathryn@kmyoga.com or ring (02) 9389 8343 for more information.
Download Application and Registration KY Level 2 Training Form
---
Teaching Team
Lead Trainer Karta Singh Khalsa, Sat Sarbat Kaur, Satmukh Singh and assisted by Sarb Sewak Kaur (Kathryn McCusker) will be your team for Module 1.
The teaching team will vary according to each module.
All teachers are active members of the Amrit Nam Sarovar International Kundalini Yoga School, based in France.
International lead trainer Karta Singh, Founding Director of ANS (Amrit Nam Sarovar) International Kundalini Yoga School, France.
When I first met Yogi Bhajan, I immediately anticipated his death. I was looking for a way to keep alive what had become so precious to me'.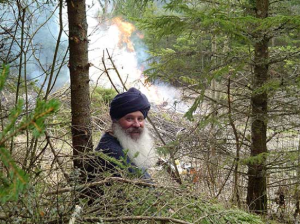 Karta Singh was born in Morocco in 1950.
At the age of ten he had to abandon his homeland. The family had been living in North Africa for three generations when – due to political unrest – they decided to go back to France in the early 1960s. This sudden disruption instilled in Karta a deep "longing to belong". He then embarked on a quest that would make him understand what it means to have a home and a tradition.
In his twenties Karta was determined to access a body of knowledge that would re-connect him with the roots he had lost. He studied mathematics and physics, taught himself oriental philosophy and psychoanalysis: in search for the "true teaching" that would give life meaning, purpose and direction.
Eventually, he was initiated into a freemason brotherhood. He joined a circle of highly committed individuals. Well-respected, learned and efficient members of society, these men had dedicated their lives to building a brighter future for all of humankind. This encounter planted the seed in him for a broader understanding of what made life meaningful.
It was in the mid-seventies when Yoga Bhajan first crossed Karta's path. Immediately, he recognized him as the teacher he had been looking for: not a mere man of intellect and applied philosophy but a true spiritual master. During a tantric course Karta came as close to the man he considered his teacher as he could possibly come. In a moment of Kundalini rising Yogi Bhajan literally entered his body. This was the beginning of an alchemical relationship that would change his life forever.
Karta followed Yogi Bhajan in his vision to build a global community with spirit being the founding principle and common bond between all mankind. This would only work if people changed their level of consciousness. Therefore, Karta made it his mission to help people transform and realize their full human potential. He started teacher training, which did not exist at the time. As a pioneer, he created programs in France, Belgium, England, Russia, Austria, and Switzerland. With the teacher training Karta reached out to as many people as possible.
When Yogi Bhajan died in October 2004, he left an impressive legacy. Teachers would spread the teachings in all four corners of the world. For Karta it was a time to re-connect with the initial vision: How far are we on the road towards an inclusive and enlightened society? How can we live in dharma (righteous living) in the west today? How can we facilitate a strong sense of living for each other? How can spirituality truly guide us in our lives?
On his land in the French Alps he started building a space that could serve as a foundation for living the teachings. He considers Le Martinet as a sign post that welcomes people looking for a spiritual home. People living for each other beyond borders, beliefs and religions. It is a journey to becoming fully human.
---
TESTIMONIALS
"Completing kundalini teacher training with KMYOGA andANS last year was a phenomenally enriching experience. For me, it marked the crystallization of many years of yogic, philosophical and spiritual exploration. I found myself challenged on multiple levels, yet thoroughly supported and nourished by the incredible strength and wisdom of the teachers. The quality and rigour of the training was exceptional – unlike many courses of study, this one focused on the deep transformation of the teacher-to-be, rather than the mere imparting of information. The course was also profoundly practical, providing the knowledge and confidence required to share the teachings of kundalini yoga with the wider world. As a testament to this, after undertaking my training with Kathryn, Sat Sarbat and Satmukh, it was my honour to be able to open Canberra's first kundalini yoga studio, The Kundalini Centre, on 11.12.13. If you desire to evolve your consciousness and be of sacred service in this world, kundalini teacher training with KMYOGA and ANS provides a profound opportunity. I highly recommend this course to all those who feel the call."

- Odette Gibbs - 2013 KMYOGA /ANS Level 1 Teacher Training graduate and creator/owner of The Kundalini Centre, Canberra
---
"I didn't go into the teacher training to become a teacher. I did it for myself. This yoga has had such a profound effect on every aspect of my life, and I found the teacher training initiated me into a much deeper level of healing, transformation and joy. I learned so much, not just about Kundalini yoga and meditation, but about how to be a more complete human being. How to truly be myself. I really recommend it to everyone, even those who are new to Kundalini Yoga. It will give you tools to enrich and elevate your life- to become Happy, Healthy and Holy!"
~ Maya Stange ~ Level 1 Kundalini Yoga Teacher
---
"Teacher training changed my life. It enabled me to let go of old patterns and delve deeper into my own personal practice. It empowered me to see myself and the world differently and helped me to unlock the happy, peaceful, sublime person I was always meant to be."
~ Denie Pentecost ~ Level 1 Kundalini Yoga Teacher
---
"I have just completed the training and it has been a life enhancing experience.
To learn about the teachings of Yogi Bhajan and to be guided along the path by the most inspirational international teacher trainers Satmukh Singh and Sat Sarbat Kaur is the most priceless gift that you can give yourself in your personal development. If you are striving for a healthy body, a clear mind, a happy and blissful experience of your existence and a deep connection to your own soul then here is your chance!"
~ Harold Wolf ~
---
"Completing kundalini teacher training is the best gift one can give to oneself. It takes you on a journey to self discovery which leads to a deep transformation and blissful existence. It brings out the divine teacher in you. The teachers, Satmukh Singh, Sat Sarbat Kaur and Sarb Sewak Kaur are amazing and create fun and supporting space for this journey. At the end of it you wish you had done it a long time ago so get ready to be inspired!"
~ Mia Huikuri ~
---
Please contact Local Administrator Kathryn McCusker for more information at kathryn@kmyoga.com