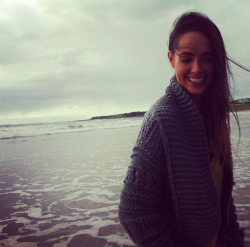 What is your name?
Mish Schaffer
How long have you been a Kundalini Yogi?
I only found Kundalini Yoga in October 2013 enrolled in the Teacher Training the same year! I'm a jump and freak out later kind of gal!
Why did you first come to a Kundalini Yoga class?
I actually came across Kundalini Yoga in an online Relationship Program I was doing. The online program had a Kundalini class before going into the content of each session, to assist in us being present and opening our hearts so that we got the most out of the Program. It was awesome! Even though I was participating through a computer screen. When I first came to a class with other Kundalini Yogi's, WOW that was another level of awesome!
How often do you practice Kundalini Yoga?
I head into Bondi for a class once a week. I live an hour out of the city on the south coast and we don't have any Kundalini Yoga teachers down here. Once I've graduated I will be the first one woo hoo! However, I do Kundalini meditations daily.
How has Kundalini Yoga impacted your life?
Well even though I still consider myself a newbie, Kundalini has already helped me shed layers of emotional baggage and supported me in building a level of inner strength that has me approach life in a new way. Rather than resisting pain and struggle, I now have the capacity to surrender to it, to flow with it and in turn feel more empowered to grow from it. This is because I practice and strengthen this character trait in every class I participate in. And the Teacher Training (WHOA!!) has helped me understand with my mind the background and science of Kundalini Yoga, which has given depth to my experience while in class.
What would you say to someone who hasn't tried Kundalini Yoga yet?
You haven't tried Kundalini Yoga yet? What are you waiting for? Just jump and freak out later haha! Let your spirit drag your ego there and thank me later ;-)
Share with us with your favourite Yogi Bhajan Quote
Oh man there are so many good ones!
"There's nothing which can be more precious in your than your own relationship with your own consciousness."
And really that is what Kundalini Yoga has given me, a practice to push up all of those things I don't know about myself lurking in the depths of my consciousness so that I can get to know ALL of me, light and dark.
If you'd like to find out more about Mish you can check out her website >>