MEET A REAL LIFE KUNDALINI YOGI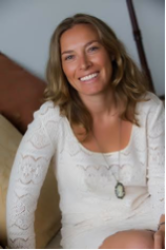 What is your name?
Leigh Morrison
How long have you been a Kundalini Yogi?
About 8 years of practising, and started my level one teacher training in 2014.
Why did you first come to a Kundalini Yoga class?
I was doing a yoga and meditation course and I started trailing different forms of yoga, after practicing hatha for many years. Kundalini blew my mind, quite literally! I was entranced, intrigued and also a little bewildered from my first experience as both physically, emotionally, mentally and energetically I felt a shift, like I was floating when I left the 3 hour workshop I attended. It had me hooked.
How often do you practice Kundalini Yoga?
A few times a week for more formal practice, but I do a lot of the meditations daily.
How has Kundalini Yoga impacted your life?
I believe Kundalini has impacted my life specifically since I started a more regular process three years ago, coinciding with me starting my own coaching business. I focused on the third chakra and my own will, determination and commitment and have seen significant shifts in all areas of my life. It has helped me stay focused in my business and its growth; be creative, strong and accountable with my Clients - and also complete my life goal of trekking the Camino de Santiago earlier this year. I take the teachings and experience from the mat (or sheepskin!) and apply them to all areas of my life through out my day.
What would you say to someone who hasn't tried Kundalini Yoga yet?
Give it a go. Try not to have any preconceptions, just let your mind relax and try to feel the energy shifts in your body, and keep up as best you can - every class is different so don't be tricked into thinking you'll form a routine - that's what makes it special.
Share with us with your favourite Yogi Bhajan Quote
'Keep up and you'll be kept up'. This is my absolute favourite mantra, and I use for myself all the time (especially when I feel like giving up or start feeling a bit negative or down). I believe that if you do your best with each opportunity granted to you, great things will come your way - so if you keep strengthening in each experience you'll continue to grow and transform to higher potential.
If you'd like to find out more about Leigh you can check out her website >>