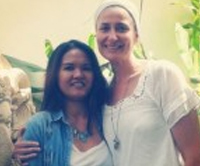 I've just returned from a two week holiday in my hometown of Sydney Australia and whilst there I visited a beautiful yoga studio called KMYoga in Bondi Junction. I heard about the studio through fellow yogis who mentioned it specialized in Kundalini yoga as well as Jivamukti and Naam yoga so I was keen to check it out.
The first class I attended was a Saturday morning Sadhana (5am – 7.30am) which was led by a lovely teacher named Maya. The moment I walked through the doors of KMYoga I instantly felt at home; it was warm and calming so I knew I was going to love it. Maya's class was very beautiful, peaceful and energizing at the same time which was perfect for that time in the morning. Her class consisted of reading the Japji, a kriya for strengthening the abdominal muscles followed by the mantras for the Aquarian age which was my favorite part. We chanted Sadhana mantras by Chardi Kalaa Jatha – I'd never heard that version of the mantras before and found it deeply euphoric. It was very authentic and at times felt like I could have been chanting the mantras in the Golden Temple of Amtristar, India! The class was full so it was really nice to see there is a great Kundalini sangat (community) in Sydney.
After the class a few of us stayed around for chats and herbal tea, which is when I met the lovely founder of KMYoga, Kathryn McCusker. We shared stories about how we discovered Kundalini yoga and I found her so inspiring that I had to attend one of her classes before I left the country so I went back for her Friday class at 9.30am.
Kathryn's class was amazing and very powerful. It's Spring in Australia at the moment so KMYoga are doing a 40 day Community Spring Cleanse – her class that day focused on cleansing the liver followed by the Sat Kriya meditation and the Gong which was heaven-ly and deeply relaxing. Kathryn's ability to teach with grace and power, and her knowledge of the teachings were outstanding, but her ability to build a community was even more astonishing. She really is a force to be reckoned with, a truly inspiring woman!
The studio itself is beautifully designed with a tranquil courtyard – this combined with great teachers really make the place. I was also impressed by the amount of Kundalini yoga classes they do per week.
Julianna
http://julianasyoga.wordpress.com
Kathryn McCusker is one of Australia's most experienced Kundalini Yoga Teachers and founder of KMYOGA, the premier Kundalini Yoga Studio in Sydney, an oasis in the heart of Bondi Junction, in Sydney's Eastern Suburbs. If you want Sydney Yoga Classes in Kundalini Yoga and Meditation and Naam Yoga, visit us at www.kmyoga.com.
KMYOGA - Kundalini Yoga Meditation - SYDNEY