By Megan Houston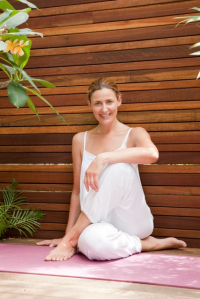 You'd have to be living under a rock to not have heard of yoga, the ancient and venerable tradition that has the power to improve sleep, help us find balance (literally), relieve stress and back pain, improve clarity of mind and much more.
Yet while the research, the celebrities and the media hype surrounding the virtues and growing popularity of yoga have arguably reached saturation point in Western civilised cultures, do we really know what yoga is?
Did you know that there are over 20 different types of yoga? The most common form in the Western world is a variation of Asana or Hatha yoga – which focuses on the physical posture.
It's likely you've heard of the downward dog, warrior pose and salute to the sun, but what you may not know is that manoeuvring yourself into contortionist poses may not be the only way to achieve the enlightenment and health benefits you're looking for.
In the words of Mark Singleton from the Australian Yoga Journal and author ofYoga Body: The Origins of Modern 
Posture Practice, "Scouring [these] primary texts, it was obvious to me that Asana was rarely, if ever, the primary feature of the significant yoga traditions in India. Postures such as those we know today often figured among the auxiliary practices of yoga systems (particularly in Hatha yoga), but they were not the dominant component."
Which brings us back to the question – what is yoga?
The Merriam-Webster Dictionary describes yoga as "a system of exercises for mental and physical health" but if you look at the many yoga sites and articles on the web, it is often described as the "path to awaken greater awareness and connection to self and life".
Sydney yoga teacher Kathryn McCusker, from KMYOGA, has travelled from Mexico to Tibet, India, France and back to London in the quest to find more peace, balance and meaning in her life, and in the process discovered Kundalini yoga. She describes Kundalini as the "mother of all yogas" and says anyone looking for the authentic yoga experience should check it out.
"It's the most comprehensive of all yogas, combining powerful breathing techniques, postures, mantras and meditation to help you unlock your true potential."
Kathryn says Kundalini was brought to the West by Yogi Bhajan and emerged from the mediative practices of ancient Hindu India, possibly as long as 4000 years ago. She said the term Kundalini was an ancient Sanskrit word referring to the powerful life force present in all of us.
"The purpose of Kundalini meditation is to open up this life force, helping it flow through each of the seven chakras, the energetic centres of the body," she says. "You can use Kundalini to address just about any issue you are facing in your life."
And the most appealing thing about this yoga seems to be that it doesn't require hours and hours of practice or flexibility to see results. In her time teaching Kundalini, Kathryn says she has seen seen enormous changes in her students and herself, seemingly overnight.
"It can easily be integrated into a busy life, and it is one of the most powerful styles of yoga," she says. "Focusing on the chakras, it is fast and effective at channelling creativity, increasing intuition and awakening your full potential.
"The kriyas [specially formulated sets of series of exercises that make up a Kundalini class] help you become physically, emotionally and mentally strong by developing a balanced nervous system and a healthy glandular and immune system."
Kathryn says she incorporates Kundalini practice into her daily routine, taking as little as two minutes at a time to focus her energy and breathing.
For more information about Kundalini yoga and meditation, see www.kundaliniyoga.com.au
Kathryn McCusker is a certified yoga teacher with the School of Kundalini Yoga and has taught in leading yoga studios including Triyoga and Alchemy in London. Previously a professional singer with Opera Australia, Kathryn opened KMYoga in Bondi Junction in 2011. In addition to Kundalini yoga and meditation, KMYOGA offers classes in Jivamukti and Naam yoga and runs regular workshops and events throughout the year. For more information about Kathryn and her studio, see www.kmyoga.com
This story was originally published on the "Balance by Deborah Hutton" website at http://www.balancebydeborahhutton.com.au/the-mother-of-all-yogas/